Why Spain will keep on teleworking after Covid 
In Spain, as in the rest of the world, teleworking has increased enormously due to the COVID-19 crisis. This in itself is not very surprising, but what will happen now the worst is over, and a lot of companies are calling their employees back to the office?
Effect of Covid on teleworking
After all, before this health crisis, Spain had a very low rate of people working from home. Before the pandemic hit, according to the Spanish Statistical Office, only 413.700 people worked from home, while in the second quarter of this year 2021, the figure had risen to 1.3 million. This means an increase from 10% to 30% of all companies implementing remote working.
Impact on employees and companies
Exactly one year ago the royal decree-law on teleworking entered into force precisely to regulate this increasing teleworking. Since then the majority of companies who have included this regulation in their 'Convenio', are, according to Expansion, compensating full-time teleworking employees with between 15 and 55 euros monthly or pro rata in case of part-time working from home.
After having experienced remote working, as a result of the Covid-19 crisis, many companies have learned the pros and cons of this modality. And we can say now that both, organizations and employees, are becoming more and more willing to implement this model at the same time that an increasing number of tools and resources are now available to put telework into practice, such as HR Factorial, Monday.com and Sesametime.
This graph shows an estimation of percentages of teleworking per sector.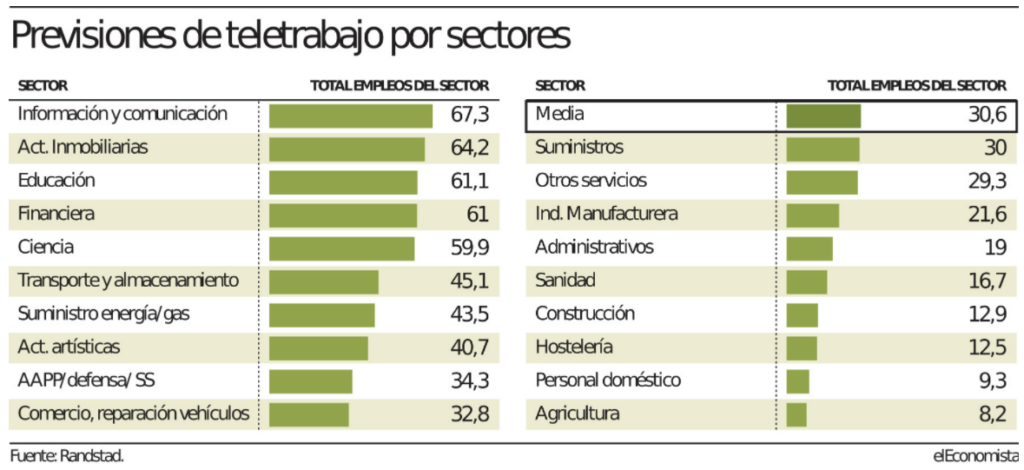 All indicates that (partly) remote working will continue to increase as it, not only, offers employees a better work balance, higher flexibility, and considerable savings on commuting and snacks, but also represents an economic benefit for organizations. A Capgemini Research Institute report estimates that, in the next two or three years, three out of ten companies will have more than 70% of their workers teleworking. In the case of Spain, according to WorkMeter; savings for the company -on facilities, offices, events, allowances and business trips, and other annual fixed costs- could be estimated between €1,000 and €5,000 per employee per year.
What seems clear is that the prevailing or preferred modality in Spain is a combination of both models, presential and remote, and the shift to a hybrid workforce one is inevitable.
Since July 9th, the royal decree-law was turned into actual law, you can read the full text here.
Keep an eye out for our blog page where we will soon write a separate article about the contents of the law and what obligations you as an employer have.
Need help implementing a teleworking policy? Olive Operations is just one phone call or email away!
www.oliveoperations.com